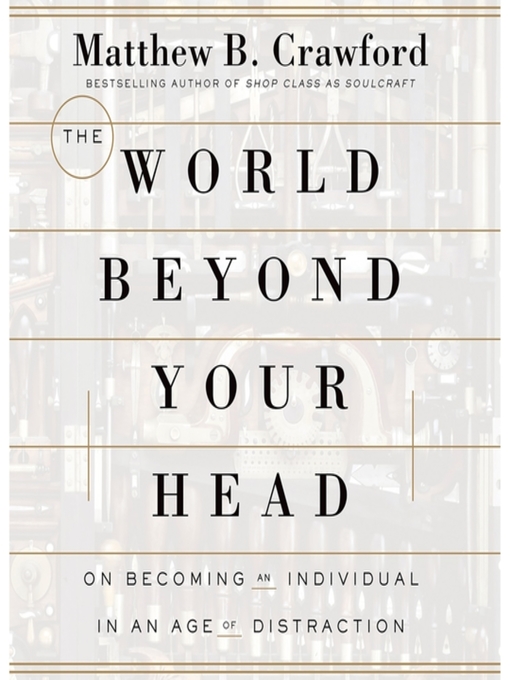 Perhaps it is more generally true that in order to learn from tradition, one has to be able to push against it, and not be bowed by a surfeit of reverence. The point isn't to replicate the conclusions of tradition, but rather to enter into the same problems as the ancients and make them one's own. That is how a tradition remains alive.

In Calvin's time, one might have had a hereditary occupation. And as recently as the 1970s, it was possible to compose a working life centered around the steady accumulation of experience, and be valued in the workplace for that experience; for what you have become. But, as the sociologist Richard Sennett has shown in his studies of contemporary work, it has become difficult to experience the repose of any such settled identity. The ideal of being experienced has given way to the ideal of being flexible. What is demanded is an all-purpose intelligence, the kind one is certified to have by admission to an elite university, not anything in particular that you might have learned along the way. You have to be ready to reinvent yourself at any time, like a good democratic Übermensch. And while in Calvin's time the threat of damnation might have been dismissed by some as a mere superstition, with our winner-take-all economy the risk of damnation has acquired real teeth. There is a real chance that you may get stuck at the bottom.
The appeal of magic is that it promises to render objects plastic to the will without one's getting too entangled with them. Treated from arm's length, the object can issue no challenge to the self. According to Freud, this is precisely the condition of the narcissist: he treats objects as props for his fragile ego and has an uncertain grasp of them as having a reality of their own. The clearest contrast to the narcissist that I can think of is the repairman, who must subordinate himself to the broken washing machine, listen to it with patience, notice its symptoms, and then act accordingly. He cannot treat it abstractly; the kind of agency he exhibits is not at all magical.
Matthew B. Crawford, from
The World Beyond Your Head: On Becoming an Individual in an Age of Distraction