Pissarro, The Crystal Palace (verso), 1871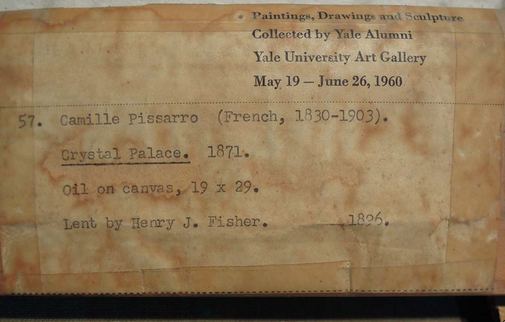 Conservators have been paying attention to the backs of artworks since at least the late 18th century, if not earlier. Painting versos are conserved to maintain their original appearances, treated with almost the same reverence as the rectos. Modestini explained that in her own experience, "even when paintings were relined and the stretchers replaced, usually the labels, stamps, seals, et cetera on the reverse were removed, if possible, and reattached to the new stretcher." Albertson recalled seeing a few paintings by Dutch artist in which the stretchers needed to be replaced; the tops of the original bars where the artist had inscribed titles were carefully pared down and reattached to the new ones.

Great attention is devoted to these rarely reproduced B-sides that only a select few are privileged to see. Those who get the opportunity revel in seemingly mundane strips of masking tape, stamps with mysterious numbers, and crossed-out titles, knowing that they are privy to an art history uncharted in textbooks. When pressed, they might even tell you that their second-favorite side is the front.