17 July 2019
Posted by

Rob Firchau
at 16:49
No comments:


16 July 2019
Reynolds,
Self-portrait
, 1788
Joshua Reynolds was born on this date in 1723.
Our studies will be forever, in a very great degree, under the direction of chance; like travelers, we must take what we can get, and when we can get it – whether it is or is not administered to us in the most commodious manner, in the most proper place, or at the exact minute when we would wish to have it. By leaving a student to himself he may be led to undertake matters above his strength, but the trial will at least have this advantage: it will discover to himself his own deficiencies and this discovery alone is a very considerable acquisition.
Joshua Reynolds
SUMMER NIGHT
Now sleeps the crimson petal, now the white;
Nor waves the cypress in the palace walk;
Nor winks the gold fin in the porphyry font:
The firefly wakens: waken thou with me.
Now droops the milk-white peacock like a ghost,
And like a ghost she glimmers on to me.
Now lies the Earth all Danae to the stars,
And all thy heart lies open unto me.
Now slides the silent meteor on, and leaves
A shining furrow, as thy thoughts in me.
Now folds the lily all her sweetness up,
And slips into the bosom of the lake:
So fold thyself, my dearest, thou, and slip
Into my bosom and be lost in me.
Alfred, Lord Tennyson
If men of wisdom and knowledge, of moderation and temperance, of patience, fortitude and perseverance, of sobriety and true republican simplicity of manners, of zeal for the honour of the Supreme Being and the welfare of the commonwealth; if men possessed of these other excellent qualities are chosen to fill the seats of government, we may expect that our affairs will rest on a solid and permanent foundation.
Samuel Adams
Wickham and Puck at work ...


WANTING to STEAL TIME
People are moving big milk cans around in
The storeroom, and I am there. Each day I move
Barrels full of nothing to a different spot.
I want to charge you for the rustmarks on my pants.
When greed comes by, I hitch a ride on the truck.
You'll see nothing but my backside for miles.
Every noon as the clock hands arrive at twelve,
I want to tie the two arms together,
And walk out of the bank carrying time in bags.
Don't bother to associate poets with saints
Or extraordinary beings. People like us have already
Hired someone to weep for our parents.
We have a taste for ignorance, and a fondness
For the mediocre dressed up as fame. We love
To go with Gogol looking for dead souls.
Counting up the twelve syllables in a line
Could make us allies of the stern Egyptians
Whose armies were swallowed by the Red Sea.
Robert Bly
Society is produced by our wants, and government by wickedness; the former promotes our happiness positively by uniting our affections, the latter negatively by restraining our vices. The one encourages intercourse, the other creates distinctions. The first is a patron, the last a punisher.
I have often wondered whether especially those days when we are forced to remain idle are not precisely the days spend in the most profound activity. Whether our actions themselves, even if they do not take place until later, are nothing more than the last reverberations of a vast movement that occurs within us during idle days.
In any case, it is very important to be idle with confidence, with devotion, possibly even with joy. The days when even our hands do not stir are so exceptionally quiet that it is hardly possible to raise them without hearing a whole lot.
Rainer Maria Rilke
MOST SWEET it IS
Most sweet it is with unuplifted eyes
To pace the ground, if path be there or none,
While a fair region round the traveller lies
Which he forbears again to look upon;
Pleased rather with some soft ideal scene,
The work of Fancy, or some happy tone
Of meditation, slipping in between
The beauty coming and the beauty gone.
If Thought and Love desert us, from that day
Let us break off all commerce with the Muse:
With Thought and Love companions of our way,
Whate'er the senses take or may refuse,
The Mind's internal heaven shall shed her dews
Of inspiration on the humblest lay.
William Wordsworth
15 July 2019
As the evening starts to glow ...


Collins,
Apple Orchard, Normandie
, 2016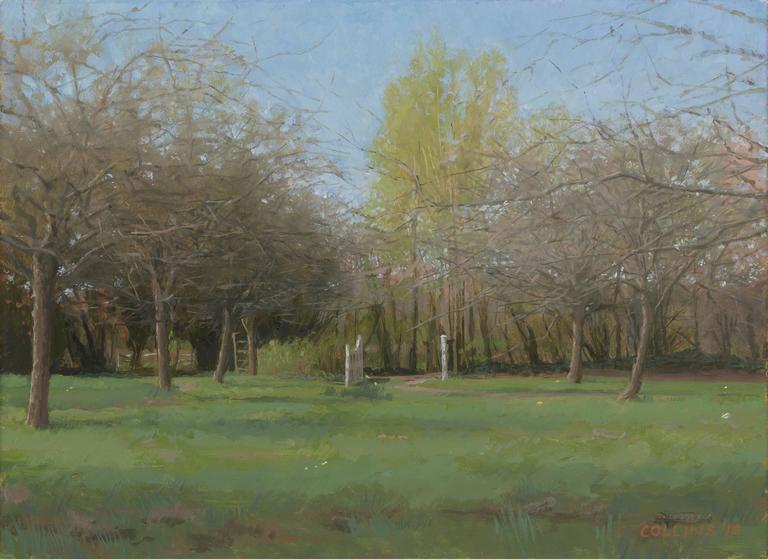 MEET ME in the GREEN GLEN
Love, meet me in the green glen,
Beside the tall elm-tree,
Where the sweetbriar smells so sweet agen;
There come with me.
Meet me in the green glen.
Meet me at the sunset
Down in the green glen,
Where we've often met
By hawthorn-tree and foxes' den,
Meet me in the green glen.
Meet me in the green glen,
By sweetbriar bushes there;
Meet me by your own sen,
Where the wild thyme blossoms fair.
Meet me in the green glen.
Meet me by the sweetbriar,
By the mole-hill swelling there;
When the west glows like a fire
God's crimson bed is there.
Meet me in the green glen.
John Clare
Audubon, Black-capped Chickadee, N/D
We learned to be patient observers like the owl. We learned cleverness from the crow, and courage from the jay, who will attack an owl ten times its size to drive it off its territory. But above all of them ranked the chickadee because of its indomitable spirit.
Tom Brown, Jr., from "The Tracker"
Homer,
Girl In A Hammock
, 1893
I KNEW a WOMAN
I knew a woman, lovely in her bones,
When small birds sighed, she would sigh back at them;
Ah, when she moved, she moved more ways than one:
The shapes a bright container can contain!
Of her choice virtues only gods should speak,
Or English poets who grew up on Greek
(I'd have them sing in a chorus, cheek to cheek).

How well her wishes went! She stroked my chin,
She taught me Turn, and Counter-turn, and Stand;
She taught me Touch, that undulant white skin;
I nibbled meekly from her proffered hand;
She was the sickle; I, poor I, the rake,
Coming behind her for her pretty sake
(But what prodigious mowing we did make).

Love likes a gander, and adores a goose:
Her full lips pursed, the errant notes to seize;
She played it quick, she played it light and loose;
My eyes, they dazzled at her flowing knees;
Her several parts could keep a pure repose,
Or one hip quiver with a mobile nose
(She moved in circles, and those circles moved).

Let seed be grass, and grass turn into hay:
I'm martyr to a motion not my own;
What's freedom for? To know eternity.
I swear she cast a shadow white as stone.
But who would count eternity in days?
These old bones live to learn her wanton ways:
(I measure time by how a body sways).
Theodore Roethke
Bobby McFerrin conducts and performs with
Filarmonica della Scala …
Audubon,
Red-breasted Grosbeak
, 1837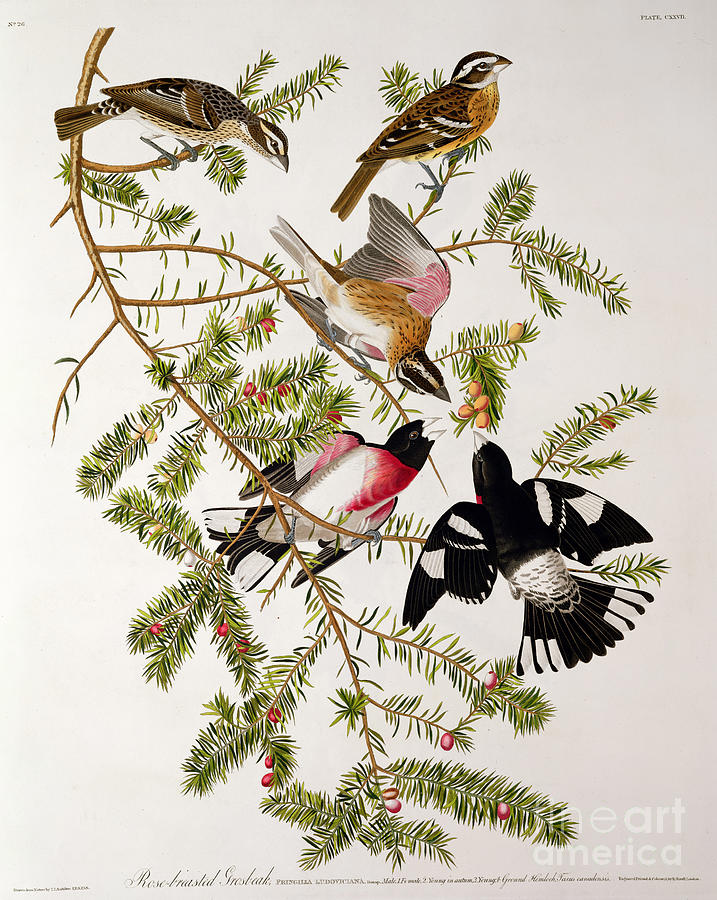 SUMMER IMAGES
Now swarthy Summer, by rude health embrowned,
Precedence takes of rosy fingered Spring;
And laughing Joy, with wild flowers prank'd, and crown'd,
A wild and giddy thing,
And Health robust, from every care unbound,
Come on the zephyr's wing,
And cheer the toiling clown.
Happy as holiday-enjoying face,
Loud tongued, and "merry as a marriage bell,"
Thy lightsome step sheds joy in every place;
And where the troubled dwell,
Thy witching charms wean them of half their cares;
And from thy sunny spell,
They greet joy unawares.
Then with thy sultry locks all loose and rude,
And mantle laced with gems of garish light,
Come as of wont; for I would fain intrude,
And in the world's despite,
Share the rude wealth that thy own heart beguiles;
If haply so I might
Win pleasure from thy smiles.
Me not the noise of brawling pleasure cheers,
In nightly revels or in city streets;
But joys which soothe, and not distract the ears,
That one at leisure meets
In the green woods, and meadows summer-shorn,
Or fields, where bee-fly greets
The ear with mellow horn.
The green-swathed grasshopper, on treble pipe,
Sings there, and dances, in mad-hearted pranks;
There bees go courting every flower that's ripe,
On baulks and sunny banks;
And droning dragon-fly, on rude bassoon,
Attempts to give God thanks
In no discordant tune.
The speckled thrush, by self-delight embued,
There sings unto himself for joy's amends,
And drinks the honey dew of solitude.
There Happiness attends
With inbred Joy until the heart o'erflow,
Of which the world's rude friends,
Nought heeding, nothing know.
There the gay river, laughing as it goes,
Plashes with easy wave its flaggy sides,
And to the calm of heart, in calmness shows
What pleasure there abides,
To trace its sedgy banks, from trouble free:
Spots Solitude provides
To muse, and happy be.
There ruminating 'neath some pleasant bush,
On sweet silk grass I stretch me at mine ease,
Where I can pillow on the yielding rush;
And, acting as I please,
Drop into pleasant dreams; or musing lie,
Mark the wind-shaken trees,
And cloud-betravelled sky.
There think me how some barter joy for care,
And waste life's summer-health in riot rude,
Of nature, nor of nature's sweets aware.
When passions vain intrude,
These, by calm musings, softened are and still;
And the heart's better mood
Feels sick of doing ill.
There I can live, and at my leisure seek
Joys far from cold restraints—not fearing pride—
Free as the winds, that breathe upon my cheek
Rude health, so long denied.
Here poor Integrity can sit at ease,
And list self-satisfied
The song of honey-bees.
The green lane now I traverse, where it goes
Nought guessing, till some sudden turn espies
Rude batter'd finger post, that stooping shows
Where the snug mystery lies;
And then a mossy spire, with ivy crown,
Cheers up the short surprise,
And shows a peeping town.
I see the wild flowers, in their summer morn
Of beauty, feeding on joy's luscious hours;
The gay convolvulus, wreathing round the thorn,
Agape for honey showers;
And slender kingcup, burnished with the dew
Of morning's early hours,
Like gold yminted new.
And mark by rustic bridge, o'er shallow stream,
Cow-tending boy, to toil unreconciled,
Absorbed as in some vagrant summer dream;
Who now, in gestures wild,
Starts dancing to his shadow on the wall,
Feeling self-gratified,
Nor fearing human thrall.
Or thread the sunny valley laced with streams,
Or forests rude, and the o'ershadow'd brims
Of simple ponds, where idle shepherd dreams,
Stretching his listless limbs;
Or trace hay-scented meadows, smooth and long,
Where joy's wild impulse swims
In one continued song.
I love at early morn, from new mown swath,
To see the startled frog his route pursue;
To mark while, leaping o'er the dripping path,
His bright sides scatter dew,
The early lark that from its bustle flies,
To hail his matin new;
And watch him to the skies.
To note on hedgerow baulks, in moisture sprent,
The jetty snail creep from the mossy thorn,
With earnest heed, and tremulous intent,
Frail brother of the morn,
That from the tiny bent's dew-misted leaves
Withdraws his timid horn,
And fearful vision weaves.
Or swallow heed on smoke-tanned chimney top,
Wont to be first unsealing Morning's eye,
Ere yet the bee hath gleaned one wayward drop
Of honey on his thigh;
To see him seek morn's airy couch to sing,
Until the golden sky
Bepaint his russet wing.
Or sauntering boy by tanning corn to spy,
With clapping noise to startle birds away,
And hear him bawl to every passer by
To know the hour of day;
While the uncradled breezes, fresh and strong,
With waking blossoms play,
And breathe Æolian song.
I love the south-west wind, or low or loud,
And not the less when sudden drops of rain
Moisten my glowing cheek from ebon cloud,
Threatening soft showers again,
That over lands new ploughed and meadow grounds,
Summer's sweet breath unchain,
And wake harmonious sounds.
Rich music breathes in Summer's every sound;
And in her harmony of varied greens,
Woods, meadows, hedge-rows, corn-fields, all around
Much beauty intervenes,
Filling with harmony the ear and eye;
While o'er the mingling scenes
Far spreads the laughing sky.
See, how the wind-enamoured aspen leaves
Turn up their silver lining to the sun!
And hark! the rustling noise, that oft deceives,
And makes the sheep-boy run:
The sound so mimics fast-approaching showers,
He thinks the rain's begun,
And hastes to sheltering bowers.
But now the evening curdles dank and grey,
Changing her watchet hue for sombre weed;
And moping owls, to close the lids of day,
On drowsy wing proceed;
While chickering crickets, tremulous and long,
Light's farewell inly heed,
And give it parting song.
The pranking bat its flighty circlet makes;
The glow-worm burnishes its lamp anew;
O'er meadows dew-besprent, the beetle wakes
Inquiries ever new,
Teazing each passing ear with murmurs vain,
As wanting to pursue
His homeward path again.
Hark! 'tis the melody of distant bells
That on the wind with pleasing hum rebounds
By fitful starts, then musically swells
O'er the dim stilly grounds;
While on the meadow-bridge the pausing boy
Listens the mellow sounds,
And hums in vacant joy.
Now homeward-bound, the hedger bundles round
His evening faggot, and with every stride
His leathern doublet leaves a rustling sound,
Till silly sheep beside
His path start tremulous, and once again
Look back dissatisfied,
And scour the dewy plain.
How sweet the soothing calmness that distills
O'er the heart's every sense its opiate dews,
In meek-eyed moods and ever balmy trills!
That softens and subdues,
With gentle Quiet's bland and sober train,
Which dreamy eve renews
In many a mellow strain!
I love to walk the fields, they are to me
A legacy no evil can destroy;
They, like a spell, set every rapture free
That cheer'd me when a boy.
Play—pastime—all Time's blotting pen conceal'd,
Comes like a new-born joy,
To greet me in the field.
For Nature's objects ever harmonize
With emulous Taste, that vulgar deed annoys;
Which loves in pensive moods to sympathize,
And meet vibrating joys
O'er Nature's pleasing things; nor slighting, deems
Pastimes, the Muse employs,
Vain and obtrusive themes.
John Clare