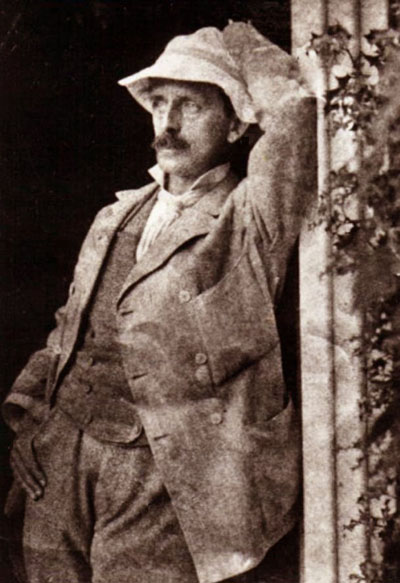 J.M. Barrie was born on this day in
To Peter's bewilderment he discovered that every fairy he met fled from him. A band of workmen, who were sawing down a toadstool, rushed away, leaving their tools behind them. A milkmaid turned her pail upside down and hid in it. Soon the Gardens were in an uproar. Crowds of fairies were running this away and that, asking each other stoutly, who was afraid, lights were extinguished, doors barricaded, and from the grounds of Queen Mab's palace came the rubadub of drums, showing that the royal guard had been called out. A regiment of Lancers came charging down the Broad Walk, armed with holly-leaves, with which they jog the enemy horribly in passing. Peter heard the little people crying everywhere that there was a human in the Gardens after Lock-out Time, but he never thought for a moment that he was the human. He was feeling stuffier and stuffier, and more and more wistful to learn what he wanted done to his nose, but he pursued them with the vital question in vain; the timid creatures ran from him, and even the Lancers, when he approached them up the Hump, turned swiftly into a side-walk, on the pretence that they saw him there.
Despairing of the fairies, he resolved to consult the birds, but now he remembered, as an odd thing, that all the birds on the weeping beech had flown away when he alighted on it, and though that had not troubled him at the time, he saw its meaning now. Every living thing was shunning him. Poor little Peter Pan, he sat down and cried, and even then he did not know that, for a bird, he was sitting on his wrong part. It is a blessing that he did not know, for otherwise he would have lost faith in his power to fly, and the moment you doubt whether you can fly, you cease forever to be able to do it. The reason birds can fly and we can't is simply that they have perfect faith, for to have faith is to have wings.
Now, except by flying, no one can reach the island in the Serpentine, for the boats of humans are forbidden to land there, and there are stakes round it, standing up in the water, on each of which a bird-sentinel sits by day and night. It was to the island that Peter now flew to put his strange case before old Solomon Caw, and he alighted on it with relief, much heartened to find himself at last at home, as the birds call the island.
J.M. Barrie, from
Peter Pan
, Chapter 14, "The White Bird"
CONNECT