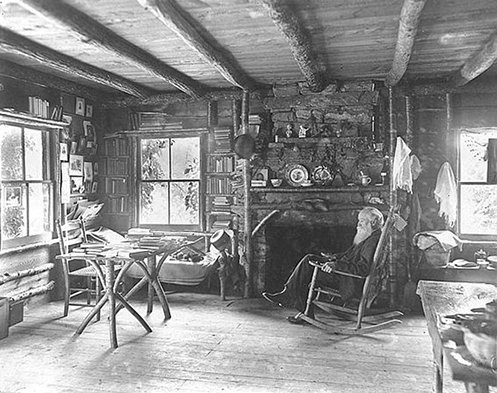 John Burroughs was born on this day in 1837.
I am bound to praise the simple life, because I have lived it and found it good. When I depart from it, evil results follow. I love a small house, plain clothes, simple living. Many persons know the luxury of a skin bath — a plunge in the pool or the wave unhampered by clothing. That is the simple life — direct and immediate contact with things, life with the false wrappings torn away — the fine house, the fine equipage, the expensive habits, all cut off. How free one feels, how good the elements taste, how close one gets to them, how they fit one's body and one's soul!
To see the fire that warms you, or better yet, to cut the wood that feeds the fire that warms you; to see the spring where the water bubbles up that slakes your thirst, and to dip your pail into it; to see the beams that are the stay of your four walls, and the timbers that uphold the roof that shelters you; to be in direct and personal contact with the sources of your material life; to want no extras, no shields; to find the universal elements enough; to find the air and the water exhilarating; to be refreshed by a morning walk or an evening saunter; to find a quest of wild berries more satisfying than a gift of tropic fruit; to be thrilled by the stars at night; to be elated over a bird's nest, or over a wildflower in spring — these are some of the rewards of the simple life.
John Burroughs